A study from the National Bed Federation declared that we bought 6.5 million mattresses in 2015. But we only recycled 879,000. In 2017 we threw away over 7 million mattresses. The majority of them went to landfill. 2021 shows no signs of slowing.
With this in mind, it is more important than ever to ensure you dispose of your mattress ethically. Here we look at the options available for disposing of and recycling your mattress.
Can I dispose of a mattress myself?
Although you could break a mattress up and throw the separate parts away, it is not advised. Not only will this take up a lot of space in your bin. It is hard work, time-consuming and frowned upon by York council.
Burning a mattress will create hazardous fumes. These fumes damage the environment and can lead you to have issues with the authorities. As well as making a mess. After burning, you'll be left with the mucky springs which you will need to dispose of.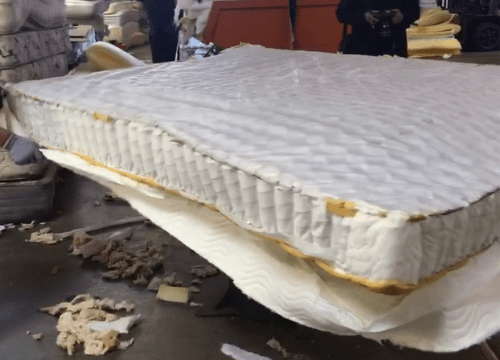 Can I sell my mattress?
Sure, you could put your mattress for sale on a site such as Gumtree, eBay or even Facebook Marketplace. Prices tend to vary from anything from £5 to £50. But unless your mattress is in good condition, or like-new, then it can be very difficult to make a sale.
People tend to buy new when looking for a mattress and avoid used items. Price accordingly. And if your mattress is damaged, torn or mucky then this likely isn't the option for you.
Can I donate my mattress to charity?
Donating can be one of the easiest ways to get rid of a mattress. Places such as the Salvation Army, British Heart Foundation, Age UK and the Red Cross will consider your items. Again, your mattress will need to be clean and damage-free.
You may want to consider having your mattress professionally cleaned. This will increase the likelihood of it being accepted by a charity.
You will also need to ensure that the mattress' fire safety label is intact. It is a blue label depicting a cigarette and a match with the word 'RESISTANT' (See image). Charity shops will not accept mattresses without the fire safety label.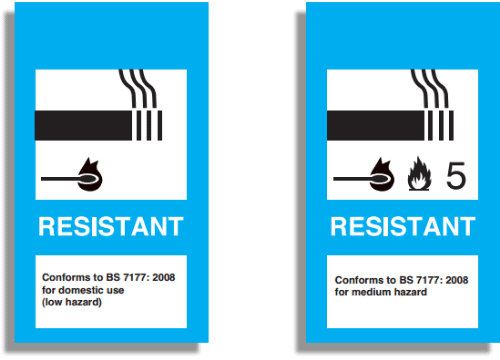 Will my supplier take my mattress away?
If you've bought a brand new mattress then chances are your retailer will take it away. Especially if you purchased your mattress from one of the larger companies. Below is a list of mattress recycling charges from popular mattress retailers. 
Argos - £20
Carpetright - £40
Casper - £20
Dreams - £30 to £45 (Depending on mattress size)
Emma - £39
Furniture Village - £55
Ikea - £20
John Lewis - £29.95
Land of Beds - £45
Linthorpe Beds - Free
Mattress Man - £25
Nectar - £35
Next - £20
Silent Night - £30
Simply Beds UK - £15
York Bed Company - £20
Will York council collect my mattress?
Yes, York council will collect your mattress. The price is £22 and as long as you can get your item outside and make it accessible then York council will collect it. The downside is you may not get an immediate collection and could have to wait for a while. Also, they will not collect your mattress from inside your property. No matter what the circumstances.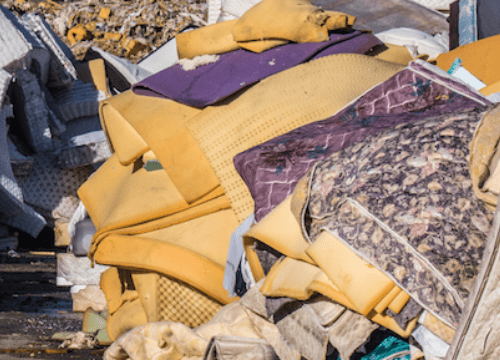 What about a man and van service?
York recycling offers this service. We can often be there the same day and if not, within 48hours. We will collect your mattress from anywhere. Even inside the property. Which means you don't need to lift a finger. Leave your mattress where it is and we will arrive in full PPE and take care of the rest. We can remove anything from one or two items to many truckloads of waste. Click the link to check out our York bed and mattress recycling service.
Can I dispose of my mattress in a skip?
Some skip companies will not allow them. Others charge extra for disposing of mattresses. And some will take them, no questions. It depends on the skip company. So, be sure to find out before you put your mattress into a skip.
It wouldn't make sense to book a skip to only dispose of a mattress. But a skip could be a good way to dispose of your mattress. If there is already a skip on-site or a friendly neighbour allows you to use theirs. As long as the item is allowed.
Can I take my mattress to the tip or recycling centre?
If you can fit your mattress into your car then the local tip can be a cheap option. You can not carry items into the tip by hand. So, you must have access to a vehicle to take your mattress to the tip. Memory foam mattresses will generally roll-up. They are easier to transport than traditional mattresses. Which are much more difficult to bend.
The upside to using a tip is that they are usually free to the general public. They will also recycle your mattress. Although, you risk damaging your car and queues can often be quite large. Especially on evenings and weekends. Which means a trip to the tip can take a long time.
If you're a business then you may need to pay to use the tip. That's if they accept commercial waste. Many council tips do not. So, it can make more sense for you to book an alternative service.
Does recycling my mattress matter?
In the UK, it's estimated that we send around 167,000 tonnes of mattresses to landfill per year. Which is equal to more than 13,200 double-decker buses. This is made worse by the fact that modern mattresses are 100% recyclable.
So, disposing of your mattress properly can make a big difference to our environment. If you need help to dispose of your mattress then click here to see what we can do for you.